Dirty connections with art: how to choose a rope for Shibari.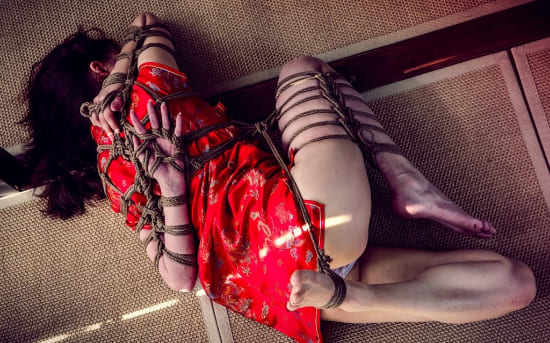 According to a large number of surveys arranged by sexologists, it has long been clear that the secret dream of most people was to be conquered. Fix your arms and legs with ropes, become immobilized, and to do anything with you. Many fantasize this surprisingly. Uncle Freud explained this by the desire to throw off the responsibility for pleasure and "dirty" Desires: "He himself came, I could not even move!" Sexologists are torn between the redemption of guilt for dominance in real life (the director of large companies, oddly enough, love to step aside) and just love for acute sensations. One of the elegant and beautiful ways to change roles is Shibari. The Japanese have long opened this way to get a breathtaking pleasure. Its essence lies in complete fixation of the body and its immobilization using ropes. And besides the fact that it is insanely sexually and exciting, the combinations of seemingly ordinary ropes and nodes can be easily attributed to real art!
The art of binding
This art for its long life has passed an interesting path from war to sex.
Initially, this was not considered something exalted, tender, capable of bringing to orgasm or bring at least a drop of pleasure. The ropes used to bind prisoners, And the intricacies of nodes and patterns indicated information about the person: his rank, belonging to the nation, and so on.
A little later, the prisoners were replaced by (mainly) women, and Shibari was in theatrical walls.
A beautiful performance, the main role in which is played by grace, defenselessness, and therefore – complete trust, this is what attracted the audience. The discovery that this action also madly like its performers, transferred Shibari to the bedrooms of ordinary people, who began to study nodes among masters or to show imagination themselves.
Now this type of art is so popular in the world that there are entire festivals in which couples share the beauty of their skill with each other. One, by the way, takes place in St. Petersburg every year!
The art of binding is not just immobilization of a person!
This is a whole view, one might even say a ritual. It is impossible to neglect the creation of an erotic atmosphere: music, entourage, specially muffled lighting .. Shibari is more than tie the ropes around the body. This is a manifestation of total and complete confidence in a person. An amazing connection is created between the master and the model.
In Japan, by the way, ropes are considered a connection with God. It seems to them a master, because the whole situation, all movements and even freedom of breathing of the model under his control. He decides what will happen next and what will be the next step. Despite all the seemingly stressful conditions for the lower, the main meaning for him is to achieve complete harmony and gain pleasure.
Of course, there is a physical component.
The body speaks very interestingly to the interweaving around it ropes. If the model reaches the subsidiary, then Shibari has more than successful. This term denotes a light trans caused by pain from pressure on the skin of a rope. The effect is such that a person loses a sense of time, The activity of the brain is slightly inhibited, and a large number of endorphins are released into the blood at this time. You have not experienced such incredible sensations yet!
Judging by the description, you probably already realized that this type of art requires skill.
Of course, you can always try and tie a knot or two yourself, following the instructions.
The main thing is not to neglect several safety rules:
NECESSARILY! Designate the stop-word in front of the process.
It should not be related to erotic topics, the bottom line is that when pronouncing it will be capable of as if "sober" Masters. If the model cannot speak, then come up with a sign.
Do not take too thin a rope, it can dig into the skin.
Comfortable diameter is approximately 6-8 mm. Thin bondes are used to bind hair and so on.
Both the master and the model should monitor the condition of the bandaged limbs and the reaction of the body as such.
The master should periodically touch certain parts of the body during the bandage process for checking sensitivity. Active sensations are, of course, good, but health is above all
These somewhat simple rules will allow you to comfortably enjoy all what is happening! As for the ropes – here you also need to be able to understand. But our article is just created to help you! Now we will tell you everything.
Ropes for Shibari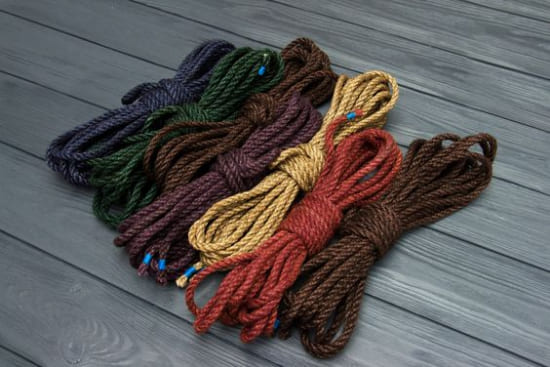 There are many toys for fixation man, but ropes, so to speak, a more canonical tool.
In addition, it is impossible to tie beautiful nodes and patterns with different rag locks. The ropes differ in length, in appearance (twisted or wicker) and in the material from which they are made.
Long ropes from seven to ten meters or more, such as, for example, Shibari Bondage, used to bandage around the chest and hips.
Its advantage is also in diameter, which is about seven millimeters, which means that it will not dig into the skin and deliver discomfort.
But ropes up to five meters (like This from Sitabella from a special multi -colored collection) are suitable for fixing the arms or legs.
In any case, if you want to derive a pattern or create a real work of art thanks to your model, you will need more than one rope, which is perhaps enough for a couple of fixing nodes. Real masters use ropes dozens! Although, of course, it depends on the scale of the idea. Perhaps excitement and desire will overtake both before the second weave;)
There is also a division of ropes into twisted and wicker.
Here, professionals disagree, because this is just a matter of taste.
Some argue that wicker ropes like Bondage from Sitabella Models look much more beautiful on Naga and soft skin. Like, the pattern is created not only with the help of ropes, but also on themselves, which gives the detail.
Others prefer a twisted arsenal like Deluxe Silky Rope From the Fetish Fantasy Series collection, Pipedream, saying that they are much more pleasant for the skin and do not leave red traces. However, here it all depends on the individual sensitivity of the model. In this matter, it is more necessary to check everything on your own experience. The main thing is that you yourself like it;)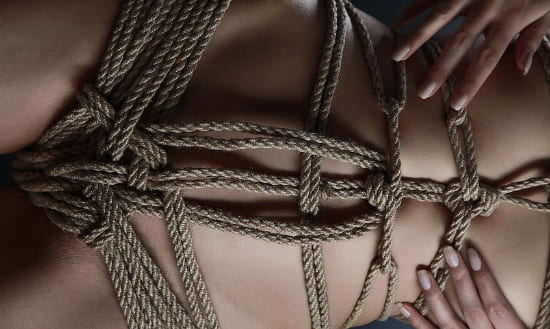 Bonds are divided into natural and unnecessary.
Both have their pros and cons of others.
Natural rope Hemp Bondage Romp Doc Johnson requires much more care. Storage in a dry place is mandatory, washing and drying after use, too, because sweat model is an ordinary organic fluid that can cause reproduction of bacteria.
However, the masters, like the lower ones, say that such ropes are more pleasant for the skin, and Shibari knots with them are much stronger.
Toyfa Theater does not require such thorough surveillance thanks to artificial material. Quite delicate and soft to the touch, it has a certain small sliding effect, Why is it inferior in the strength of the nodes. But not much.
And constantly unraveling ends (this is characteristic of all materials) to fix it is much easier to fix in such ropes. It is enough to melt the material a bit, while with natural fibers you will have to get confused enough.
There are also special sets of ropes that will save you from the purchase of everything separately.
Bondageeile From Orion Bad Kitty collection includes long and short ropes that will help you fix the limbs and wrap the body of your loved one. A whole set for your convenience!
For lovers of aesthetics of ropes who are not ready to bother with training nodes and techniques, there is also their own type of goods.
Already ready Handcuffs from the rope From the aforementioned Toyfa Theatre will save you from the need to study special materials, safety precautions and an endless amount of theory of fixation. They will simply provide you with real pleasure, while leaving the aesthetics of Shibari art!
Such an ancient skill has long been incredible to people.
Our ancestors knew exactly how to have fun;) This art allows you to weave not only the bodies in erotic ecstasy, but also to tie your hearts stronger.
You can watch videos and master classes about Shibari on YouTube, and buy ropes – we have!
Rather, go to practice with your loved one!