Kamasutra in cuffs: in what poses it is worth adding handcuffs.

Once upon a time there was an underground calendar of Samizdat, on which drawn stylized men – blue and orange occupied a whole sheet over the schedule of months. They were painted one tone, but still guessed: a small blue peasant fucked an orange woman in all poses. The calendar was called – the poses of the Kama Sutra, and was very popular among the people. We made our Kamasutra for you. With a light shade of BDSM) Our sex ispob – how to fuck in handcuffs. Come!
History of handcuffs from antiquity to our times
We joke who needs it. But we will tell you a curious fact anyway. Handcuffs (however, like a variety of fixation) became especially popular after the release of the film "50 shades of grey".
Until that moment, handcuffs were considered something from the world of hard BDSM with slaves and ladies, after the film they began to appear in the bedrooms much more often, and not necessarily those who have them practice cruel games.
Just constraining movements can be sexy.
There is a charm in fixing and game subordination. This is an exciting consciousness of a sexual psychological act – the transfer of power to a partner who can do with you what wants.
That is why sex in handcuffs, however, like any sex in which there is a fixation of a partner, always hot and sharp. Couples love handcuffs.
In the end, it can even be beautiful.
…And we will tell you a curious fact: At least half of the girls visiting sex shops have handcuffs.
Those who do not visit – often also have. Given a girlfriend)
Handcuffs are a rather popular gift, by the way.
Especially often handcuffs with fur are given. It's definitely worth it, a very universal bedroom piece! Pure classic – handcuffs with pink fur. Girls love.
Sorry for a long entry, now let's move on to the poses.
Handcuffs and poses
We will immediately agree that we will talk about any fixation, including a variety of sets in which handcuffs are included in sets with legs fixators or some other part of the body, such as, for example, Here or Here.
Therefore, fantasy in poses is not limited at all. Handcuffs are assistants. And don't laugh, but choose the assistant correctly)
Handcuffs are of different types, And do not rush to take the first melting simple handcuffs if you dream of fucking your baby in all poses.
And vice versa – why do you need complex designs for people with a particularly violent imagination if your sex is gentle, and the bedroom is strewn with rose petals and forced by candles.
Well, let's talk about different handcuffs and fixation types, and for what kind of sex they will come in handy.
Metal handcuffs
Metal handcuffs are classics.
Their type – "handcuffs like in the police", Only metal bracelets are usually wearing fur covers of bright colors.
Always look sexy. And the bracelets are not rubbing.
Ideal for those who do not want to go too far, but prefer a slight immobilization and a light game environment rather.
Such handcuffs are not very convenient for long -term and hard fixation, so they are used more to create an entourage.
They can add a highlight to a home strip, which can be more erotic – a half -naked girl who sways handcuffs on the fingers ..
You can play with a cop, or a girl with them-policeman (the detainee will have to be very sweet).
By the way, there are almost never handcuffs in the role of role -playing costumes, you have to buy.
The fur on such handcuffs is usually removable, There are many colors, maybe black, red, blue, purple.. leopard, Certainly. Or tiger)
There are especially beautiful metal handcuffs – strewn with crystals, from Lola Toys – with pink And black fur.
If the fur is not needed at all, then here – pipdrim, real German handcuffs. Or here, as an option.
…They can then be riveted to the bed (yes, at least to the battery, suddenly you have especially interesting games).
Pay attention, the bed should take place for fastening, it is better – strong metal rods.
But usually metal handcuffs are used for entourage and for light sexy games with a shade of submission.
Kamasutra:
The partner lies on his back, giving his body to full possession, his hands are opened with his head and cooked to each other, the connecting circuit can be passed through the head of the bed.
The girl's hands are connected behind her back, she stands on her knees – Game in "Forced blowjob".
Doggi Stayl with hands constrained. It is better for a girl in this position to sit on the floor in such a way as to be able to lie on the bed on the bed.
…and do what you want with her)
…Nevertheless, there is a difference between the police and sex shops: Metal handcuffs from a sex shop always have a security button to leave the ability to open without a key, just reaching with a finger.
This is done specifically so that it is impossible to click tightly and throw the key.
Handcuffs from a sex shop can be removed on your own, simply by cleansing the lock in any incomprehensible situation.
That is, they are absolutely safe for everyone.
Handcuffs made of leather or fabric
A little more use options for leather or tissue handcuffs.
Soft wide cuffs are more comfortable – It is such handcuffs that can be used for long -term restrictions even in the most unthinkable poses.
Also, leather and fabric fixation perfectly withstands jerks during passionate sex, and holds hands well without injuring wrists.
Often, such fixers have a tr-bdsm view – brutality, chains, rivets or even Spikes, Therefore, it seems to many that they are only for those who turn on the topic.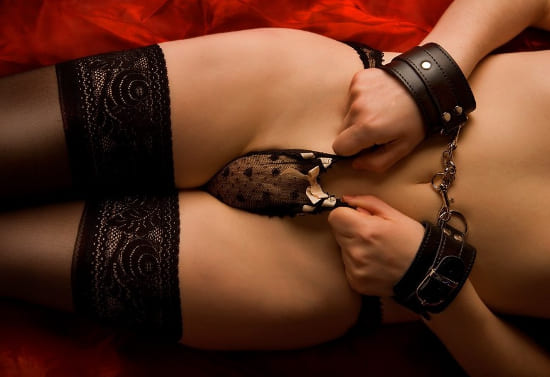 However, manufacturers of BDSM ACSESS are increasingly offering not terrible options for traditional couples, which only sometimes indulge in submission.
They are convenient, pleasant to use and just look good, I do not turn the bedroom into a torture room.
This includes all types of leather handcuffs with soft fur inserts inside, it looks like So or like this. If the goal is not causing pain, but only a game of subordination – such handcuffs are exactly what is needed.
Handcuffs of non -standard flowers, like Silver, or with interesting ones color solutions.
Agree, they are not at all like accessories for torture.
Tissue handcuffs are not at all devoid of aesthetics – look at designer OKOVA or handcuffs from the SPORT Line series with convenient Velcro adjustment – So or So.
By the way, almost always leather and tissue handcuffs have unfinished carbines, which allows you to disconnect the cuffs and increases the stylishness of the poses.
Kamasutra:
A pose option for playing a forced blowjob: a girl sits on her knees, her back at the back of the bed, handcuff cuffs are disconnected, her hands are divorced and fastened to the back.
The girl lies on her back or stomach with diluted and fastened on different sides of the bed with her hands. By the way, for such a pose there is even a particularly convenient option – fabric An handcuffs with a binding.
The girl lies on her back, her legs are connected together, lifted to her head, hands in handcuffs are connected under bent knees – so the man gets full access to the most interesting, and the girl is unlikely to resist him.
And due to the convenience of wide cuffs, even a long stay in such a pose will not cause it much discomfort to it. Try 😉
Sets of fixers
Very often handcuffs are sold in sets with a variety of latches, and now where fantasies can be roasted!
Most often handcuffs are connected to the feet.
Such sets have a diverse look:
It can be fixation like "cross cross" with a short cross
Examples: comfortable Fur set, Bonding set from fabric, or leather set Fesselkreuz Black from Orion.
Fixing cuffs are disconnected, they can be used both in a set and separately.
Kamasutra: pose "star" – The girl lies on her stomach, her legs are divorced and bent at her knees, the wrists are knocked down to the ankles.
Sets with a long connecting cross, such as belt fixation Bad Kitty, Great kit with chains, Or fabric fixation "wrists-lodges" From BDSM Arsenal.
Kamasutra: The girl is in the Doggi-Stail pose with her arms and legs.
By the way, a large selection of fixation "Hands-lodges" – There is here.
Often handcuffs are connected to collars.
It can be "lightweight" set for game submission, such as, for example, Bad Kitty Hals/Arm Fesseln with fixing your hands behind your back, or FF GAG & Wrist Restraint from Pipedream (in which, in addition to the collar, there is also a gag for the mouth), or even sets for complete fixation "The neck of the carrier-rush", type of sets Bad Kitty Fesselset-System or Broad Bondage.
Handcuffs connected to bondage elements – for example, with fixing the hands to the body, type Scandal Collar Body or Lux Fetish, or to the hips, as in sets from Sitabella or Pipedream.
Kamasutra: Everything that fantasy will tell. Any games to subordinate and restriction of movements. But usually such sets are used for all pose options "The man is behind".
Bed fixers
Perhaps the most interesting option for limiting movements – Special sets with handcuffs and legs designed for stationary laying on the bed, usually Under the mattress.
The length of the belts in such sets is adjustable and, as a rule, they are suitable for any bed size.
This is convenient – the belts -foundation stretch under the mattress at the level of the arms and legs, cuffs are fastened to them from outside.
This is imperceptible – when the kit is not used, the cuffs are unfastened and the belts are not visible. Ideally, if you live not alone, but you don't want to refuse interesting games.
Kamasutra:
The girl is located from below, on the back or on the stomach, fastened to the bed on the arms and legs.
Game to the mistress and one of the most common fantasies in rape of a man – A man is fastened to the bed, the girl sits on top. Complete female power.
A particularly piquant pose, as limiting movements as much as possible: the girl is on her back with her neck and maximum diluted legs. The ankles are packed to the arms fasteners, the arms are on top of the hips, the wrists are fixed with mounts for ankles.
Be careful: the pose, nevertheless, requires a certain flexibility.
Do not break her)
Handcuffs for hanging
They are handcuffs for a posture standing.
Exist in three versions:
Intended for hard BDSM games, such as, for example, handcuffs with reinforced mounts and hand over, gloves for hanging, or belt bondable set, which is attached to the ceiling.
But keep in mind – such fixation requires reliable fastening.
Kamasutra: Handcuffs with stationary mount are usually used for games in hard dominance or for flogging.
Handcuffs with suction cups for the wall. For example, such or like these ones.
It is better for them to choose smooth tiles – such latches are ideal for sex in a bath.
Kamasutra: Girl standing facing the wall, man from behind.
Handcuffs for hanging to the door, Here or Here.
Have fixing capsules that are clamped between the door frame and the door. A very interesting option for sexual diversity. All you need is a strong door that can withstand gusts of passion.
Kamasutra: The girl is suspended in her arms face to man. A man supports his hips during sex.
Handcuffs-decoration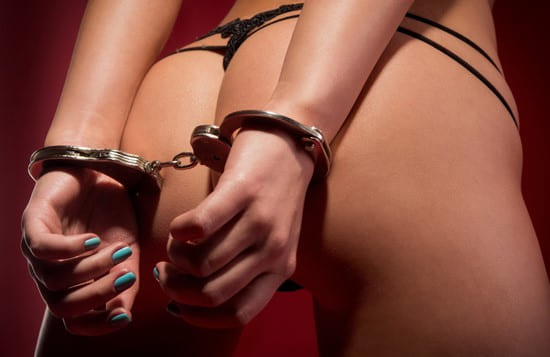 And finally, handcuffs intended not so much for submission and humiliation, but for easy entourage and erotic photo shoots. They are decorative handcuffs.
In bed, they will also be useful (but still to rivet to the metal bed and twitch in gusts of passion with them), but Such handcuffs look especially beautiful as decorations of the body and in erotic photographs.
A wonderful collection of such handcuffs has Bijoux Indiscrets – there and Fluffy feathers on chains, and bracelets made of flowing metal canvas – Silver, Gold or Black.
They also have wonderful gift sets (usually they give them to the wedding, white And red – The garter, pestles for nipples, a pen-checoater and delicate handcuffs with ribbons from a translucent organza) included).
Kamasutra: Lempting ass of a girl sitting on the floor by the bed on bent knees, or standing a semi -finished against the wall… Beautiful pose, pelitude fingers on mouth -watering buttocks, hands constrained by thin openwork bracelets…
Oh yes! And do not forget the camera – you will want to forever capture these scenes;)
We were able to describe far from all poses in which handcuffs would not be superfluous.
And probably you can always come up with something of your own)
All handcuffs for your, even the most incredible fantasies, collected here.
Choose and play! Non -casual sexual life to you!
Your intimshop)