Sex story. His wife was fucked harshly in front of her husband – the first experience of BDSM.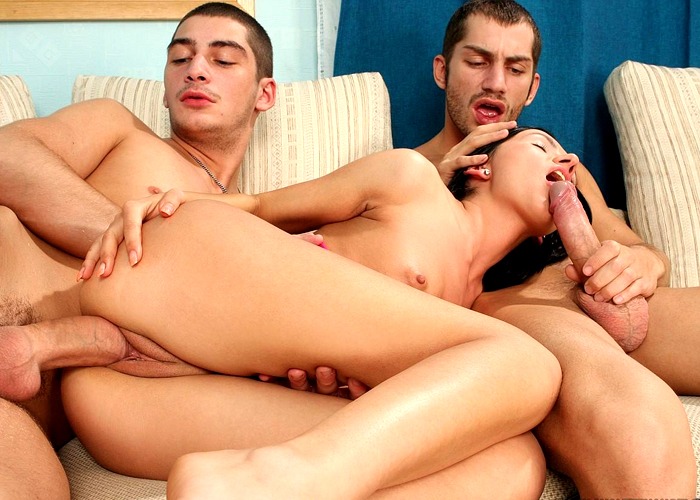 My husband and I have been married for 15 years. We live together, the family is good. So that sex is not boring – we use sexual experiments all the time, sex toys. Role games are one of our favorite entertainment.
Sometimes we practice joint masturbation. Sometimes shawl and masturbate in public places. In general, not teenage, of course passion, but there is no effect.
Here we somehow decided to try BDSM. They bought a scoop, attributes, clothes. Funny. And somehow came to taste. The philosophy was mastered. The practitioner has been raised. They changed roles. 50 shades of gray – nastolly manual on this subject)
Well, it somehow happened that the husband feels perfectly in the role of the owner-dominant, and I am in the role of a slave-sabersive. From practice, if you give it to the game completely, go to the end, not to enter the gaming, but in a real sense of helplessness, subordination – there is simply wild excitement. Moreover, it, as well as orgasms, is concentrated not so much in the genitals. How much is some kind of total sensation ..
For strengthening, we have been in this process of dominance-subordination for a month. Grandma's children, so we had a slave sexy life at home (for me). The agreement was such-without a framework, without stop words, to the end, complete submission, total dominance.
I'm on vacation, I can't leave the house. I have already forgotten what it is to be dressed. All the time naked, then on the floor I crawl on all fours, then I sleep in the corner. And a lot of hard, viscous excitement and sex ..
Actually, history.
The owner (husband) said in the evening that tomorrow I should stand on the highway towards the cottage at a certain place. To get into a black car, called the car number and they will take me because it will not be able to pick me up.
I arrived by taxi for the indicated kilometer of the track. I look – not just like that, next to the point with street prostitutes. Sort of track, vulgar. And I'm standing nearby. Cars periodically drive up, ask – how much am I … standing, brushing myself off, waiting for a car. I think he watches somewhere sits, as they try to take me off on the road.
I felt the adrenaline in the combat with fear-what if someone would grab, drag. What if my husband is not nearby and I can't fight back on my own?
All this stand lasted 40 minutes. Already a pimp came to me with a claim – what the hell are I interrupting customers on their land. I thought that now this one would drag me and cut me off somewhere in the forest ..
As a result, a black car drove up with a great delay. I have already learned the rooms. Out of fear, I jumped into it, without even thinking and not asking. I sat down, waiting for a submissive, I do not ask questions. I look-there is no husband in the car, but there are 2 some silent man. Touched silently, went. I no longer understand – either the game, or not. Maybe I mixed up the cars and starred on a prostitute point. I started to be scared not by childish, but you can't ask like. Here one turns and says that my husband is already in the country, waiting for me, asked to pick up and toss me, t.To. He has no time.
I breathed out, we go silently. I look, we drove our turn to the dacha. I turned back, look into the rear window and suffer – say / no, maybe this is an element of the game again.
And then the men begin to talk among themselves that they say I can and do not have to be taken to the cottage. Let's say. That they were late and did not meet that. Probably left for a taxi.
Turned into the forest on some abandoned road.
The lady's friend turned to grab my hand said that I won't call me anywhere that I will work out the duty at first. While he was holding me, the drove moved back to grabbed my hair and lowered me between the seats to the floor. Picked the bag threw it in the front seat, his friend got behind the wheel. I was lying on the rug on the rug, trying to break out, but my leg stuck between the front seat when it twitched and it continued to keep my hair on the floor.
The car got up, the second man went out, something about it on the street. Returned and we went again. Then we arrived somewhere. I still hoped that this was just a dumb rally in the framework of the game, that now my husband would meet me. Well, let there be flogging. But from my own master.
In general, the driver dragged me by the hair and hands very rudely from the car. And here I had a panic – the cottage was not our. And not familiar at all. They dragged me to the porch. One tore off my clothes. In fact, tearing it. I pulled off my pants and inserted a standing member in my mouth. I tried to resist and bite, but he squeezed his lower jaw with his hand, preventing a member of a member to jump out of his mouth.
And then began to move, putting a member right in the throat. He held his hair with his second hand, hard his head back and looked carefully into my eyes. I had a vomiting reflex, but he piled his dick deeper until he finished right in my throat.
The second man torn the rest of the tights on me, tore his panties. I saw light bruises on the priest from home flogging and said that they could not only fuck. But also to get off.
Then he called the phone from one of them, he said that he had forgotten me to pick me up and I realized that I was ending ..
They tore off the remnants of clothes from me, put on their stomach on a bare table, wrapped with tape. I could not move at all.
They put some stinking rag in the mouth, sealed with tape, and then began to fuck in turn. First vaginal, then in the ass. Then they alternated – then here and here, sweat was erupted and entered at the same time – one put a member in the ass. The second is in the vagina … Strange, but they started to do it delicately, they were concerned about grease. Although, despite the inhuman fear (I was already preparing to say goodbye to life) I had some wild excitement. In such circumstances, I flowed abundantly. It was even somehow indecent to get excited so much.
. And then I had a frantic excitement, the anus was opened. I moaned, substituted. Probably, it seemed that I was from pain and fear, but in the floor I wanted it to be fucked endlessly, hard, deep ..
I don't know how much it all lasted … Probably, until they finished both. And the sweat opened the door and I heard my husband's voice. He said that I am a lustful bitch having fun with his friends and that I need to punish me for it.
Here is such a game at the age of 16 ..
PS. We did not discuss this story later. I would never know for anything that it was the most horse sexual impression in my whole stormy family life.
Well, not for repetition, but it was cool. Thanks to her husband for the experience delivered.