Porn story "Cool eggs".
Now I am sitting at home alone, locked, and writing this story from my girlfriend's phone, as she forgot to take him with her to work. I don't know how she will react to this, but I hope to very get angry and punish me again. Do not be surprised that there will be a scrotum in the spotlight, because it is a symbol of men's endurance and character. And in my porn story, the eggs were not accidental: it will be about how I, gritting my teeth, endured all the executions and proved my willpower. My cock and anus also experienced the most cruel punishments, so I'm not afraid of pain. Well, let's get down.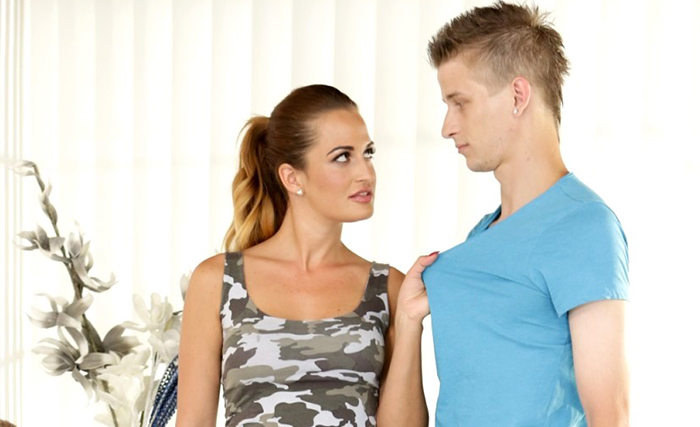 Grabbed me by the eggs-porn stories
When I began to meet with Julia, I had no idea that it was starting. But it turned out that we are very good for each other. I worked in a cafe when I first saw her, and she immediately attracted my attention. It was a slender, beautiful woman with long brown hair and red lipstick. She entered in a tight skirt that opened her hips, with a handbag in her hands. Everything in her behavior radiated confidence. When I went to her table to accept the order, she gave me an appraising look, stopping between my legs.
Having finished coffee, she went to the bar.
– How much will you free?
"At seven," I answered.
– I'll sit for you.
Satisfied, she turned and went out.
At seven o'clock she was already waiting on the street. At dinner, Julia told me a little about herself, that she was working as a doctor and recently arrived in the city. As it turned out, she is 12 years older than me. Then we went to my house. When we entered, she looked contemptuously, but said nothing. Okay, the apartment was in its usual untidy condition, but still ..
I closed the door behind us, and Julia froze, looking intently into my eyes. I stepped forward and gently kissed her lips. Her tongue immediately turned out to be between my teeth, then she took my right hand and brought it to her chest.
We did not kiss long, quickly moving into the bedroom. There we tore off our clothes until both were in underwear: I am in boxing underpants, and Julia – in tightly stretched underwear. Her skin was white and warm, and the breasts are large and hard.
I threw back the blanket and pulled it to me. We kissed again, and this time she spread her chubby hips and pulled my hand down under the belt of her panties. Her vagina was shaved and slippery. She pushed her pelvis into the beat of my caresses.
"Lick me," Julia ordered, pulling off her panties.
Having pulled off my boxing underpants, I knelt between her legs and pressed my mouth to her wet pussy, circling her tongue her clitoris. She continued to rub about me with her pelvis.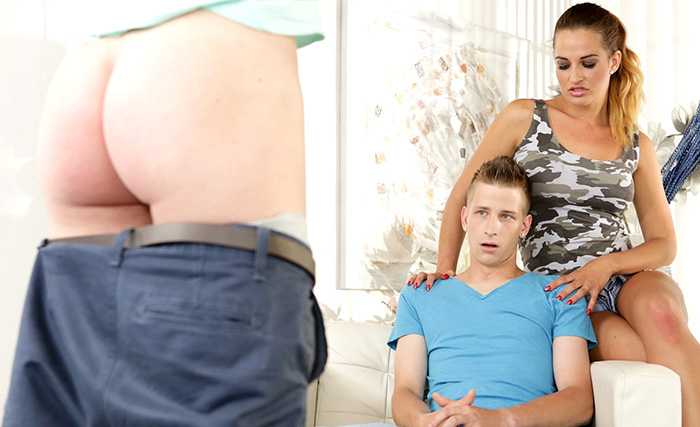 – Faster!
I tried to keep up.
– Damn, lick me, moron.
I began to lick more actively.
– You're fucking miserable weak.
All this time she wriggled faster, until finally completely buried in my face.
"Lord Jesus," Julia said in a moment, looking at my cock. – You can't fuck me, you understand.
– What?
– Your Causages look damn sorry. I can only fuck me with a decent size of eggs, but you only know about such guys from stories, probably, probably.
I decided that she was joking, although not funny.
"If you want, I will spend you," I muttered offendedly.
But Julia climbed into her bag and took out a couple of surgical gloves. Putting them on, she held out her hand to touch my penis. Then she aggressively grabbed him and began to turn. All this time, Julia whispered in my ear about my cock, saying that he would not satisfy the mouse, and the egg is like a little boy. The process ended on this, and we went to bed.
After that, we began to meet almost every evening. I never managed to fuck her, and our sexual life consisted mainly of the fact that I ended in her mouth. We never met in my apartment again because Julia considered her dirty. A few weeks later, she decided that she would no longer touch my cock, and after a few days she asked me not to masturbate while we were together.
In total, I moved to her, and Julia made me quit my job to stay at home. This meant that in the morning, going to work, she locked me in the apartment, and I did homework. If you had to buy something, we did it together when it came. Julia also locked the bathroom so that I could not masturbate in the toilet or soul, and also forbidden to watch porn while she is not at home. Instead, I had a night pot in our bedroom, which she could investigate for the presence of traces of sperm. Julia made it clear that she considers masturbation on my part a serious crime.
In the end, she decided that she did not want me to touch her vagina, but only in special cases when I was a particularly good boy. The rest of the time I had to bring her to orgasm, licking the anus. Any failure would have entailed a punishment, as well as the inability to complete homework for its satisfaction or any evidence of my masturbation.
Punishment changed as relations develop. One of her familiar classes was to squeeze my balls while I whined in pain. "Just like testicles from my favorite porn stories," Yulia explained.
"My little boy must learn to obey the rules," she said softly.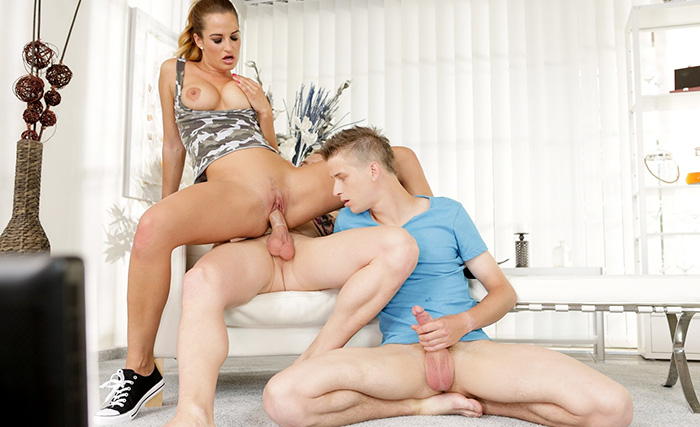 By this time, she had already sniffed my underwear to make sure that I did not play with myself. Once, Julia found a sperm spot on my underpants and decided that the punishment should be of a different level. Having retired to her office to think everything over, she called me.
– I can't believe that you were fucked up what disrespectful. It took me a lot of time to come up with a suitable punishment, but now I decided. I think you need to punish your cock.
"Yes," I agreed.
"Although he is damn tiny, he will still feel pain," she continued. – Stand on your knees.
I knelt down, and Julia tied my wrists and ankles together, so I could not move them. She began to undress until she was in front of me, naked in all her pale, slender splendor. I saw how the vaginal juice glittering between her legs.
– Let me lick you, – I prayed.
But she turned away to put on surgical gloves, and took something from the table. When she brought him closer, I saw that it was a metal grater for cheese.
– What are you going to do? I asked, trembling.
"This is for your member," she replied, "so that you remember the rules for the future.
With her hands in gloves, Julia pulled my foreskin and began to rub the sensitive head of my cock along the grater. I tried not to scream in pain, but when she accelerated friction, I whined like a dog.
One or two drops of blood fell to the floor.
"Please stop," I prayed.
"Poor boy," she cooed with pleasure.
I tried to lean and kiss her. But Julia pulled away and slapped me on her cheek with her hand in a glove.
"You just deserve an even greater punishment," she said cruelly. Throwing a grater, Julia grabbed my eggs.
– I think it's time for the baby to squeeze the testicles.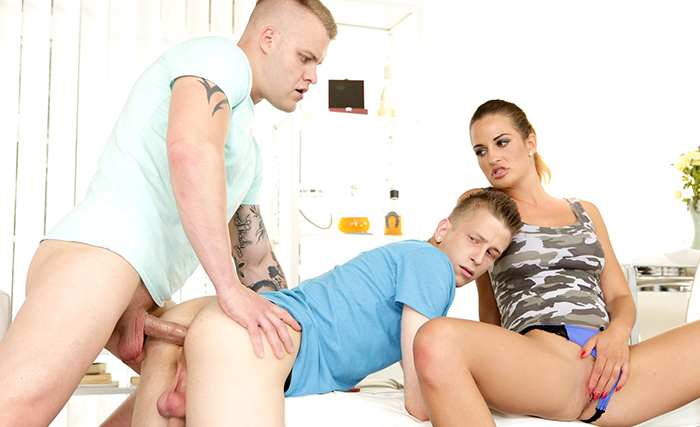 Irling with pleasure, I groaned quietly when Julia squeezed my left ball between the thumb and forefinger, at first gently, and then more and more tough. She laid the other hand on my right testicle and squeezed the whole scrotum, laughing at my helpless crusts.
In the end, I could no longer restrain myself. I threw back my head and howled when a long thick stream of sperm broke out of my bleeding member. Julia's hips trembled, she finished, without even touching anything.
Moral blow to the eggs-Sex History
Next week, in the early morning, a story from Julia expected me. She said that she meets another man and wants to bring him home to make him a partner for sex
. In the evening they really came together. I was naked in the kitchen, preparing dinner when she came home from work, accompanied by a tall, muscular guy.
She did not introduce us to each other, but went to the kitchen.
– Why is this damn food not yet ready?
– Soon everything will be ready. I cooked in Chinese cuisine, a rather complicated recipe.
– Well, when the food is ready, I will eat it with Pasha (that was the name of that guy). You will serve us as a good waiter, and then we will break you in your room.
– Can I dress, please?
– Of course not. I want Pasha to see your tiny reason. It will make him laugh.
I finished cooking and brought a tray with food to the living room. Pavel and Julia were sitting at the dining table, their chairs were almost in contact. I noticed his hand on her hip. Julia turned off the light and lit a candle for him.
Pavel carefully examined me from top to bottom.
– Do you want me to put him on a chain? – asked Pavel Julia.
"Thank you, dear," she answered, and leaned over to kiss him with a long, deep kiss. Paul put his hand on her hip, she spread her legs and giggled. – Lay the baby to sleep.
"Come on, eccentric," the guy said. He followed me in a free room and told me to lie on the bed. I knelt down and put my hands behind the bed of the bed, and he fastened them with handcuffs, which Julia left for me.
They left the doors open so that I could hear them after dinner when they went to the room to fuck. A few minutes later the knock of the head of the bed on the wall stopped, and I heard steps. Julia in a leather collar stood in the doorway.
– The kid wants to see how a real man fucks? She asked.
She led Paul into my room and put it in a chair by the bed. Then Julia took a tube of grease and squatted, turning her back to Paul so that they both looked at me. She wiped a little jelly on a member of Paul, and smeared the rest according to her anus. Julia lowered her buttocks on his cock, biting her lip when he entered her.
"Oh yes, baby," she said, "he is so huge.
Paul member entered the very eggs, and I, as in sex stories, watched as a typical puppet. Julia reached out to her pussy and moistened them in her juice, then leaned forward and brought them to my nose.
– Poor little boy does not understand anything of this. But if he is a good boy, then he can lick sperm from the hole of his mommy.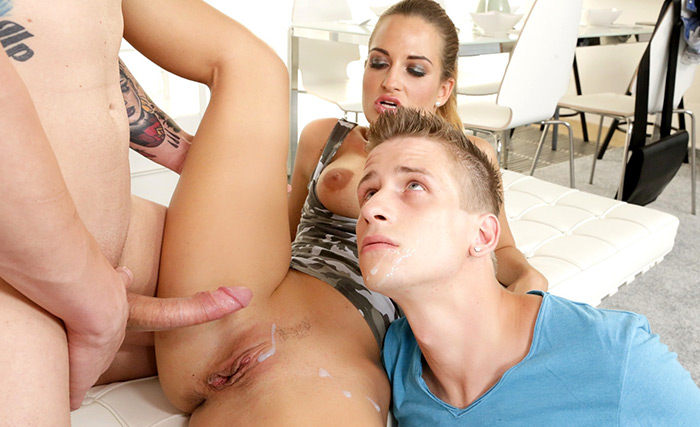 +
Pavel continued to fuck her, and she sobbed with every push. Then he leaned forward and began to rub her clitoris. Julia caught his breath. Paul's breathing became more frequent, the eyes closed.
Finally he finished, bit Julia by the neck. She shuddered, and a moment later her body shook the orgasm.
– What will we do with it? – asked Pavel.
"He will lick me as a good boy," said Julia.
I was still lying on my back, chained to the back of the bed.
– You want to fuck him? – asked Julia.
"Looks like he will not like it," Paul grinned.
– It doesn't matter what he wants. I decide what will happen next to him.
– Then, it's OK. I don't care in whose hole to shove.
"He must be punished for not preparing dinner on time," Julia said viciously.
Pavel left the room and returned with a pack of condoms and a bottle of chili oil, which I put on the table with dinner.
– What are you going to do? I asked.
"Shut up fuck," he shouted, "let him lick your ring. This will make him shut up, – suggested Paul. Julia climbed onto the bed and put her ass to my face. But I watched Paul. He had already opened a condom and poured chili oil into it.
Then he took a lubricant, put me on all fours, and I felt his gross fingers on his hole. Excited, I pretended to resist, begging him to stop. He kneeling between my legs, spreading them, and I felt his naked head of the penis touched my ring.
When a member has a harshly entered me, I almost screamed in pain.
– You like it, yes, fagot?
I nodded silently.
You know what else I have prepared for you? – Pavel said viciously.
– Oil chili.
– And where it goes?
"On my cock," I said with difficulty.
His dick was still inside me, but he reached forward with a condom full of oil, and pulled him on my dick. At first I did not feel anything and thought that maybe it would not hurt. But when Pavel began to fuck me, I felt an increasing burning sensation in the head.
"My dick is on," I whipped.
"Shut up, your mother," Paul shouted. He fucked me even faster and faster, and I only sobbed from pain and excitement.
Now Julia turned to look in my face while my cock was tormented by burning oil. As before, she rudely squeezed my moss, as if wanting to crush it, and it was at that moment that I had an idea to write this erotic story about eggs. But suddenly she said that I no longer expected to hear from her:
– Now I see that you have withstood everything: you are not a finished rag, but my brutal boy with steel balls who proved it!
Julia watched the tears roll on my cheeks, muttering to herself: "Poor little baby", then deeply put her fingers in her vagina and sucked me – I almost went crazy and a new wave of excitement. Pavel continued to push more and more. Finally I finished, spraying with hot white sperm in a condom. After a few seconds, I felt the heat filled my insides, and saw how Julia wriggles and whimpers: she also finished.
We were the three of us, unable to move. In the end, I still had to ask to remove a condom from me.
Although it was a hellish night, Julia and I never saw Paul again. We learned that threesome can bring pleasure, but I think that we both preferred to be monogamous in ordinary life. Here it turned out a porn story. While I wrote, I realized that in fact we just calmed down and became an old -fashioned couple.