Sex story: the guy fucked hard in a sex shop.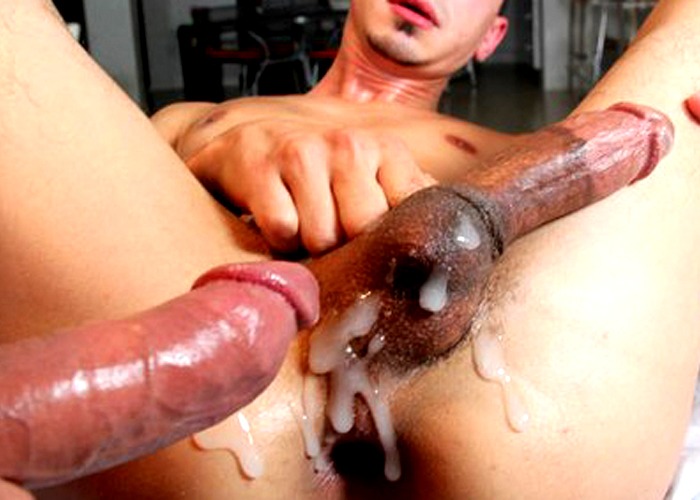 The guy was fucked harshly in a sex shop.
Porn gay story: binding, anal, sex toys, guys, first time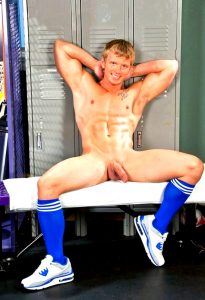 I am 18, I am professionally engaged in football. Therefore, I have muscular sexy legs, with a height of 183 cm I have a rather hot body, the girls dry for me. My cock is 20 cm, and I am very proud of this, the ladies with whom I sleep are more than satisfied.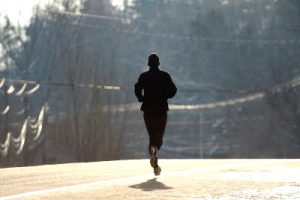 I like to watch porn when there is free time, I especially like to watch how people have sex using sex toys, such as dildo and so on.
I always wanted to try to use any toys during sex, but there is not enough courage to go to one of these stores to buy something.
So one fine day when I was on a run, I walked past one sex shop. Suddenly I felt that it was not so scary to enter the adult toys store. Having entered, I began to examine the windows, wondering what sex toy I would buy.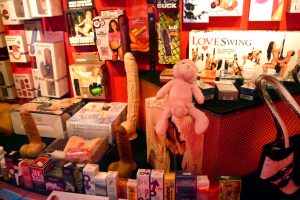 Suddenly someone asked:
– Hey, handsome, what kind of toy you are looking for?
I was often called a handsome man, but another guy never addressed me before. I was a little discouraged by this. The guy was very good: with dark brown hair and blue bottomless eyes;He looked older than me, about 20 years old and was a height of 190 cm. I noticed that he was rather muscular, just looking at his hand.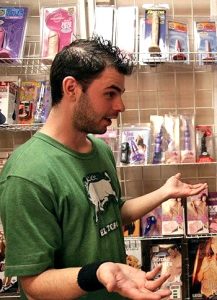 After I answered in shock:
– The first time I decided to buy this kind of thing, so I don't know, in fact, what to choose.
– Oh, I see … this is your first time. Do you want me to show you everything?
I answered dryly:
– OK then…
He showed me everything that was on the shop windows. We even joked when he dressed artificial breasts – right perfect pair. We managed to chat a little while he showed me different toys. After examining the entire assortment, I never knew what to choose. The seller asked:
– that you can't decide?
– Well, yes … because there are just so many options … and because I don't even know what is better ..
– Hmmm well … since you don't know what is better … let me invite you to the staff room where there are tons of toys that you could try and choose what you like
I hesitated, but curiosity took up, besides, he was so friendly that I could not refuse. We went into the far room of a sex shop, it was dark and scary there, but there really were a lot of toys for sex ..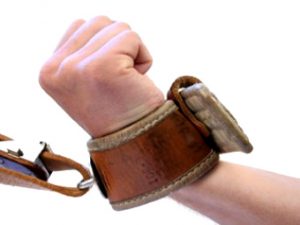 He then told me to sit on the bed. I sat down, and he took out a bunch of things from the closet. Then he told me to undress so that I could try toys. This all began to seem strange, so I refused, and when I tried to get out of bed and head to the door, he dragged me onto the bed, and then tied my hands to the back of the bed, using some leather belts.
– What are you doing? Freak!
I shouted, but he did not react;Then he tore my clothes, throwing me naked on the bed. He left me there, and went to take some toys … I fought with all my might, but it was useless. Then he came up.
– Boy, just relax, and I will show you all erotic toys in action
Then he untied my legs and threw them up, and then tied them again.
– Handsome, let me imagine the first thing I will use, and this is Ky Jelly – lubricant. Now I will prepare you for pleasure that you will not forget until the end of your life!!
After he said this, I felt something cold on my hole, he inserted his finger, pushing deeper into my hole. I screamed and he stuffed my underwear in my mouth.
– Further, let me show me … This is a dildo and guess what he is for??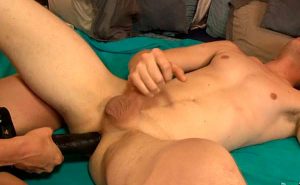 He put the entire dildo in my ass, not stopping;It was very painful, and I started to cry.
– Oh .. This is too great for you? I don't think so.
Then he turned on the vibration, and the dildo began to vibrate, it was now more painful than before, but the faster the dildo vibrated, the more pleasant it became for me.
Seeing that my cock stood up, he took out an erective ring and put on my cock. After that, he gently took my cock and began to insert a metal catheter into it right into the urethra.
It was a hundred times more painful than the dildo in my ass.
After that, he took out a dildo and began to stick anal balls.
Putting them all, he took off his panties took out underwear from my mouth and began to fuck me in his mouth with his 25 -seniytimeter member.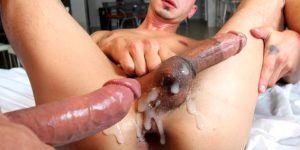 This was the first time in my life, I felt a member of another guy in my mouth. He penetrated deeper and deeper, and I felt a slightly brackish taste of lubrication.
He pulled his dick from my mouth and put it right in my ass with anal beads already in my ass. It hurts, but I enjoyed. After 15 minutes of hard fuck, he finished right at me.
Then he took out a catheter from my penis, and I finished very violently.
After he untied me, he asked:
– As it was? I decided what kind of toy you will buy? Or still want to try something else?
I am not gay, but it was very pleasant when something penetrates inside you, so I said:
-Can I try something else?
He nodded, and we played until the store closed. As a result, I took a dildo with me. Before leaving, the seller put a vibrator in my ass, put on an erective ring and inserted a catheter, said. So that I took it all off only upon arrival home.
It was really a great day, and I liked my new experience. From that day I became a bisexual and a large fan of erotic toys. And recently I got a job in this sex shop, we play with new toys when there are no customers and even play with some guys exactly as he played with me when I first came there.