How to achieve clitoral orgasm.
Many women are convinced that they are not able to experience an orgasm. In fact, nature gave girls at least 7 of its types. To learn how to truly enjoy sex and reach the peaks, you need to awaken sensitivity and know which points on the body to stimulate. The clitoris orgasm is one of the simplest and most achievable, it comes from stimulating the clitoris head. If active caresses do not give a result, then the sensitivity of this part of the intimate zone is not awakened, you need to learn how to stimulate it correctly. This can be done with the help of a partner (including his language), your own fingers, stream of shower, Womanizer sex toy, which is created specifically for these purposes.
How to get a clitoris orgasm?
The first and most effective option is self -satisfaction. In this process there is nothing reprehensible or bad. Doctors have long recognized masturbation useful for a number of reasons. So you dump the voltage, relax, even if you have no partner, improve your mood. Regular orgasm – prevention of uterine cancer and other gynecological diseases.
The second path – a partner brings to orgasm. Many men caress the clitoris as a prelude, later moving to vaginal sex. So that a woman gets a clitoris orgasm, do not rush. Increase stimulation time, bring the girl to the peak, and then proceed to other actions. It is important that after such a finish a woman is able to have other types of sex, unlike vaginal.
The girl can ask a man to caress her longer. Guys love their eyes, so observing how a partner enjoys is an additional exciting factor. If there are several orgasms for one sexual intercourse, this will become the highest praise for a man.
How to get a clitoris orgasm on your own?
The first way is with your own fingers. First take a warm bath – it will relax. Then sit comfortably on a bed or sofa, you can turn on easy music or an erotic movie (the second will be more effective). Start stroke your body: arms, legs, buttocks, chest, nipples, then slowly go down, caress the labia labels, then small. Take your time, the prelude will take about 10-15 minutes.
Take a water -based lubricant, pour a small amount onto the clitoris and around it, massage the area near the clitoris without touching it. When you feel strong excitement, gently touch your fingers to the head and slowly strok the clitoris. Listen to the sensations, remember in which places it is more pleasant, know your own erogenous zones. Caress yourself like this for 1-2 minutes, then stroke the buttocks and chest again. Next, return to the clitoris head, massage it more intensively and actively until you get the clitoris orgasm.
The second method is using sex toys. Womanizer has proven themselves well. They are designed specifically to bring women to a peak within 2 minutes. Remember that stimulants also need lubrication.
Clitoris orgasm with a partner: poses
Any competent lover owns cunnilingus techniques and will be able to bring his woman to clitoral orgasm. If not, watch our video course "Cunnilingus skill". There you will find more than 30 techniques of unrealistic oral satisfaction.
Language stimulation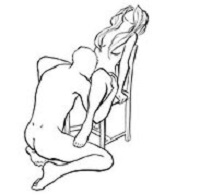 During cunnilingus, a man can caress the vagina with his fingers. But do not try too hard for the vaginal orgasm to occur before. With your hands you only strengthen the sensations, your main tool is language.
However, Kuni is not the only way to bring to orgasm. You can achieve the highest point of pleasure in different poses, including in traditional sex.
From the side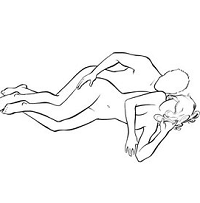 In this position, a man stimulates a woman's clitoris during intercourse. If everything is done correctly, the partner will receive a clitoral orgasm with a vaginal.
Doggi-Stayl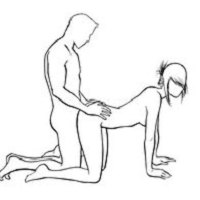 Everything here is almost the same as in the previous case, but the member penetrates deeper into the vagina, bringing additional pleasure.
Rider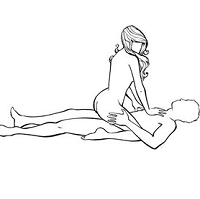 This pose also allows you to get both orgasms. A partner or woman herself can stimulate the clitoris. The second option is preferable, because such a spectacle strongly excites men.
How long does it take to get a clitoris orgasm
It all depends on how specifically to caress the body. If you yourself when viewing an erotic video, then it will take 2-4 minutes. When you are distracted, you will need more time.
Remember that any female orgasm is in your head, so completely relax, throw away all unnecessary thoughts and focus exclusively on your own sensations. Also, do not forget about the lubricant: with dry fingers, you only rub the genitals, there will be few amenities from such a process.