How to increase a dick with soda. Is it really at home?.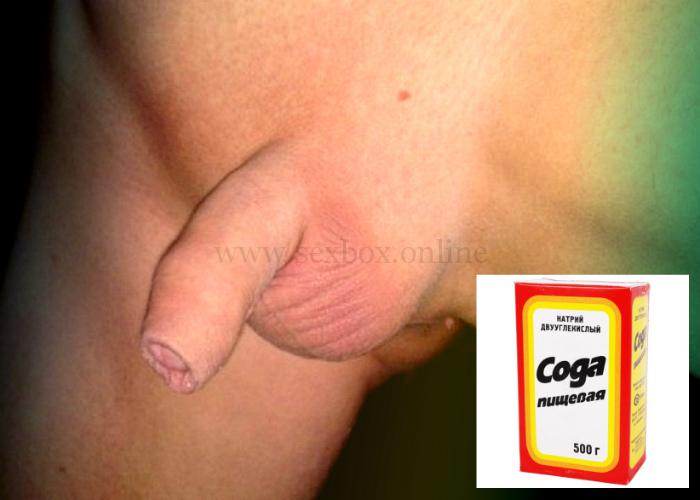 There is a myth on the Internet that baking soda is the simplest, most affordable and effective way to make a member thicker and longer. This misconception is so popular that many men, having not studied the issue in detail, receive dangerous damage to the delicate skin of the penis, which are then treated for a long time and painfully.
Soda effect on the body
Soda is sodium bicarbonate, which is able to have an irritating effect in external use and a diluting effect when taking inside.
Diluted blood freely penetrates the cavernous bodies of a penis, filling it more than usual. The effect is short -term, lasts no more than an hour.
Common ways to use soda to increase penis
A liquid gruel of soda is applied to steamed in warm water and rubbed.
Soda is applied to a wet member, and then they use a vacuum pump.
Reception of a solution of soda inside after eating.
What do the doctor's say
Doctors clearly against the use of soda to increase the member. Sodium bicarbonate has a strong drying effect, which instantly causes damage to the delicate skin of the penis.
Frequent complications when rubbing soda into a member:
Ulcers and microcracks on the head that are poorly treated and do not heal for a long time.
Redness and strong burning.
Allergic reactions up to Quincke's edema.
Soda dries the mucous membrane, kills a useful microflora, after which candidal balanopostitis, thrush, urethritis, which are poorly treated and accompanied by abundant discharge with an unpleasant odor, burning, pain, develops.
Dry skin and ulcers on the head of the penis after using baking soda
When taking inside
Soda – an alkaline solution that has a pronounced effect on the acidity of the stomach. The uncontrolled use of inside is caused by gastritis and exacerbation of the ulcer up to the perforation of the stomach, which shows an emergency operation.
It is strictly forbidden to take soda inside for the following diseases
Gastrointestinal diseases (stomach, intestines, liver)
Diabetes
BPH
Blood diseases
Reviews from forums about the use of soda to increase a member
Judging by the reviews of men who risked their member, this method should definitely not be used.
For some reason, there are a lot of recipes with soda for a member on the Internet. I read articles, I decided to try. I just applied how after 5 minutes the member began to pile mercilessly and burn. Quickly washed everything off, but by the morning of the next day the redness did not pass, the head was swollen and hurt. Urination was also painful. I had to go to the doctor, blush and explain what my organ smeared ..
I have a small member, so I began to be interested in how it can be increased. Looked on thousands of recommendations. I drank almost 2 weeks in the morning, the effect of zero. Then in a state of erection began to apply thick gruel and rub. Did it within a week. And then horror came!! Pain hellish in 20 minutes. And it got to the urethra, and it hurts there.
Bottom line: I am flying gastritis. On the head, the skin became dry, like parchment paper, cracked in places. All this hurts, wet. By the way, the member has not increased. All these suffering did not make sense.
Do not risk your member, do not self -medicate!