How to organize a gangbang: step -by -step plan with a photo.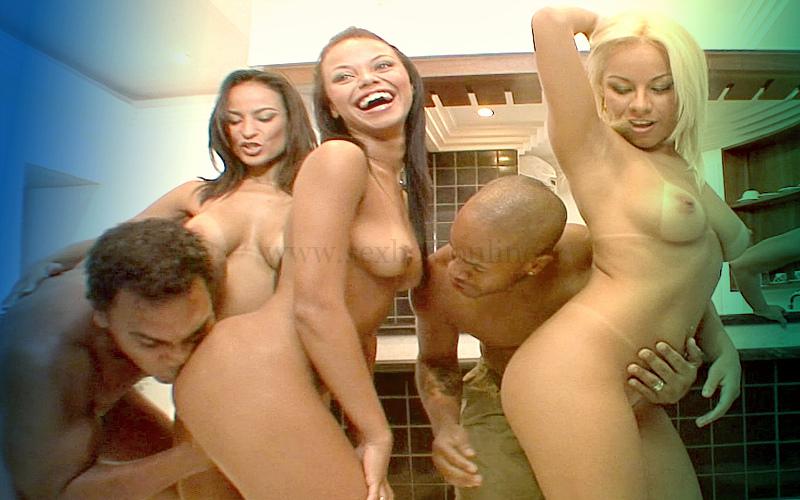 Starting to organize a party with group sex, remember: the vast majority of people would like to try and participate in orgies from time to time. But they are shy and afraid. If you manage to remove psychological barriers at the very beginning, and then make a grouping morally comfortable – you will gain popularity among lovers well to sex quite quickly.
Below is a step -by -step plan for organizing orgy.
Selection of participants
Pre -select those who can interest you and please each other. Pick the participants close by age. Adults and mature can be embarrassed among young and fit. Too young may not want to have sex with the elderly. Age difference – no more than 10 years.
Select participants similar in appearance. For example, a sex for dumplings, where all women size XXL.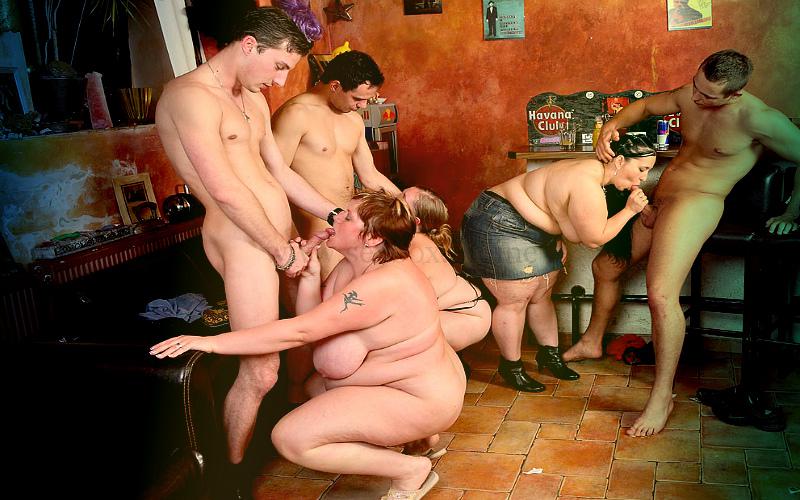 Photo: Sex Wedeem for Fat Girls
The participant should be close to social status. The student party will be funny and unbridled. If there are adults that have taken place there, intrigues, increased female attention and discontent of young guys are inevitable.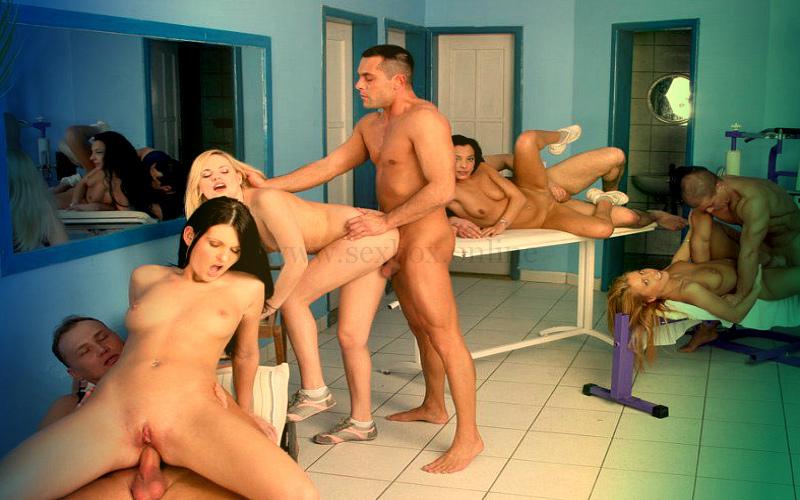 Photo: Sports Orgy in Fitness Club
Do not invite steamed couples. For experienced and adults there are closed swinger clubs. And if the couple comes to the evening sex with group sex, they can begin to be jealous in the process and spoil the atmosphere with scandals for all participants.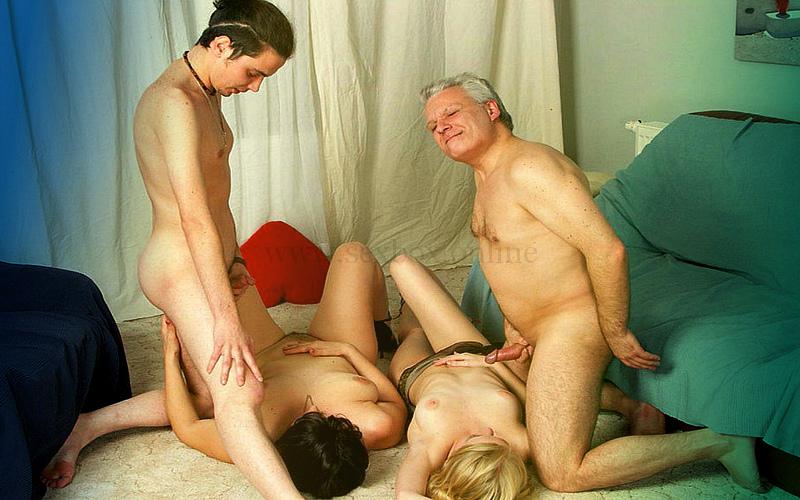 Photo: sex of different ages
Pick up men and women equally. From experience – invited men do not come more often than women. Make a supply of men by 10 percent.
Get the assistant assistant
At the stage of the organization, find yourself an assistant with experience in group sex.
Its task is to imperceptibly provoke participants to the transition to the next step – from stroking to kisses – further to intense sensual caresses and sex.
In the course of action, he must pay attention to the most shy and involve them in the general process.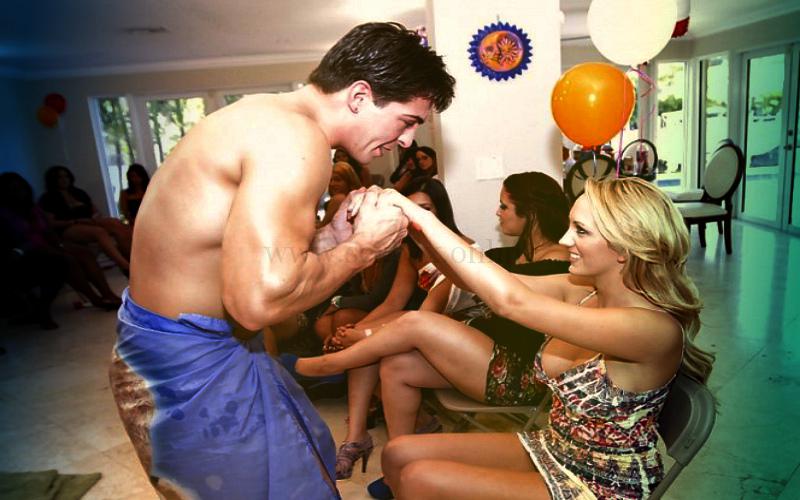 Photo: Active host on a sex video
Naturally, he should know the concept and script of the party in advance and no one should know that he is an alcohol.
Several of these experienced conspiracy provocateurs are able to turn any most ordinary party into orgy.
Come up with the format
The orgy in its pure form, without an idea and entourage, begins slowly and poorly gains a degree of excitement. People look around and from time to time think that I am doing here?
Therefore, you need to come up with a concept and make a thematic party. For example. Based on Kama Sutras, when everyone should come in oriental clothes.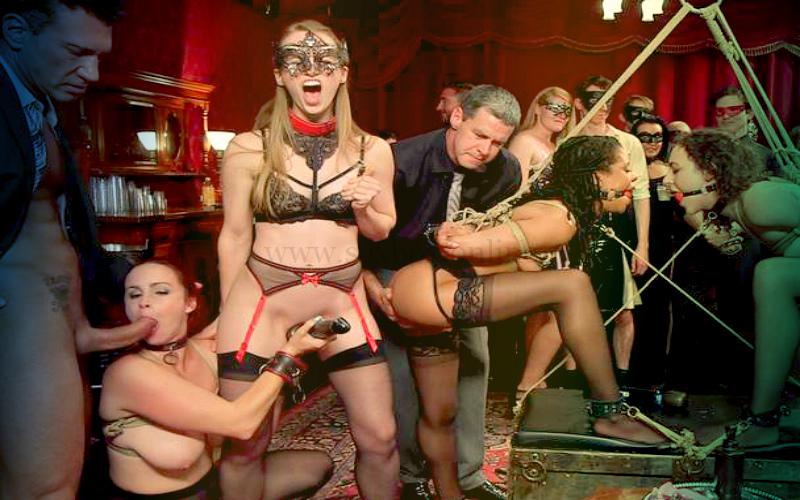 Photo: Sex Wedding in the BDSM style
Or in the style of "ancient lust", clothing and behavior should result in unbridled emancipation with wild animal passion. Make musical accompaniment in with drums and intensive tantric sounds. Very steeply introduces the entire company into a part -time condition.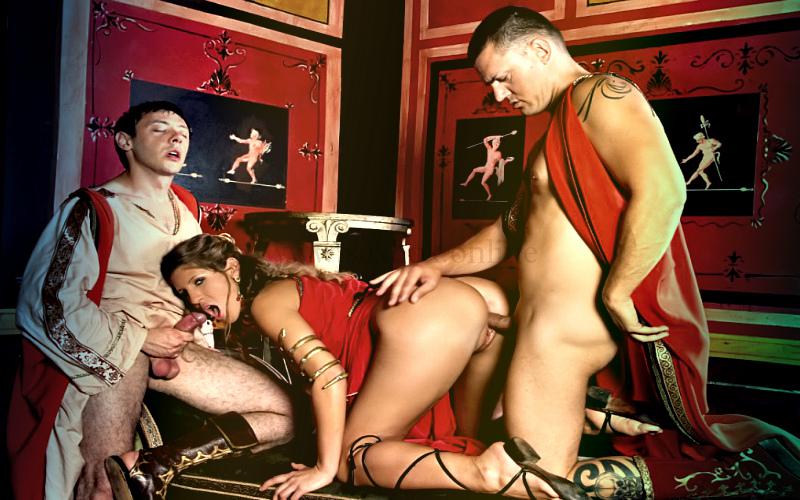 Photo: Group in Greek style
Or in the format "Middle Ages". Get the Inquisition Court of Curtains or Witches. Form of clothing – capes with hoods, faces cover masks. There may not be clothes under the cloaks.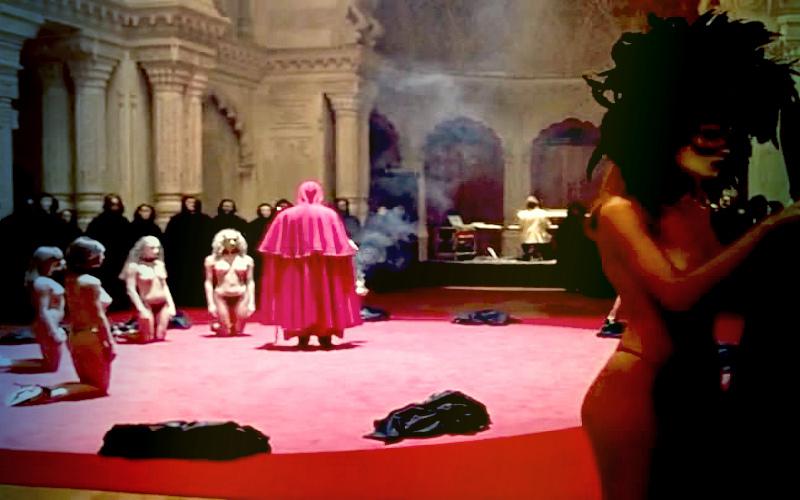 Photo: Medieval sex
Watch the film "With Years wide Closed" – the atmosphere is perfectly conveyed there
medieval orgy.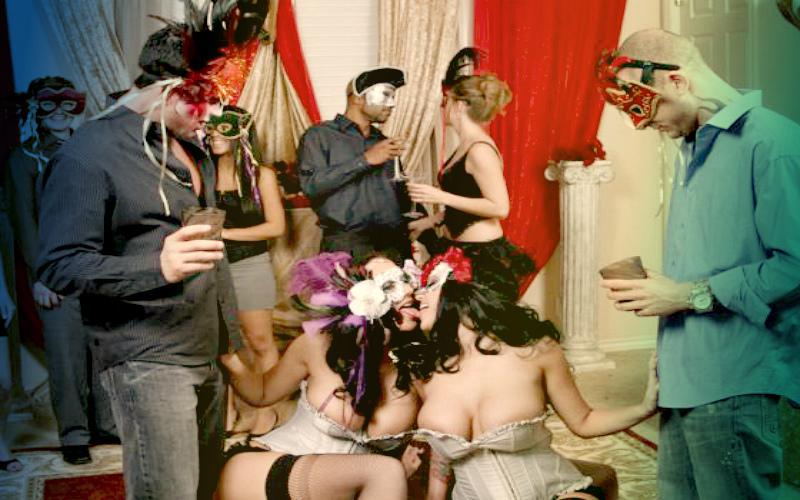 Photo: Sex Wizard in Masks
Invite black women or blacks to the party. So that one half is dark -skinned.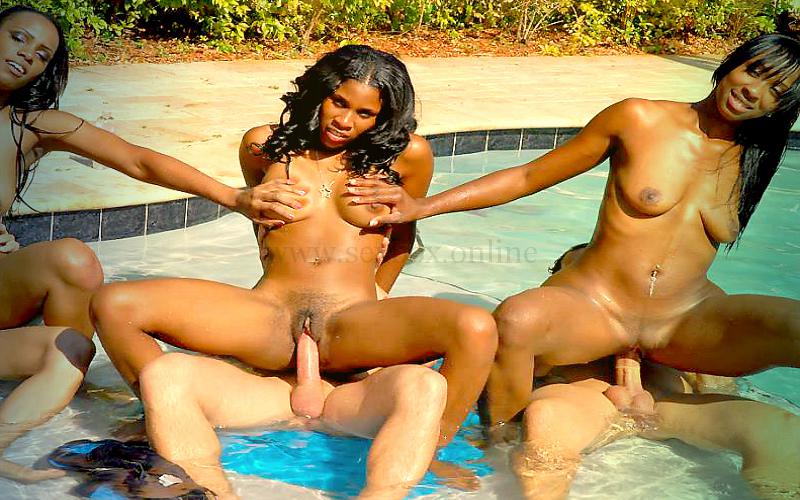 Photo: Color Sex Vozname with black women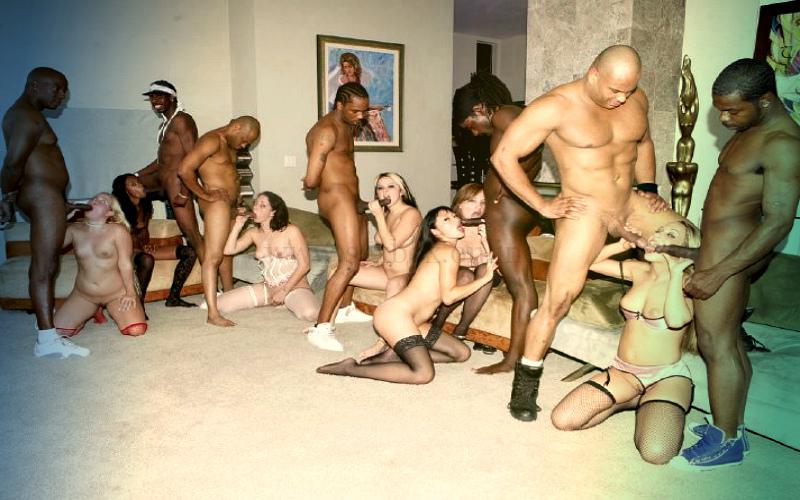 Photo: black and white orgy
Invitation
Experienced, who has already participated in such parties, send a beautiful invitation in a closed envelope without a hint of a sexual orgy so that no one can accidentally see.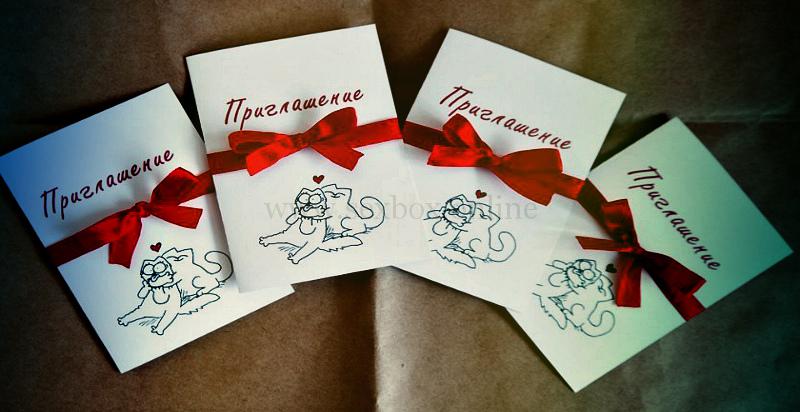 Photo: invitation to a party with group sex
Do not send invitations to e -mail. Someone else can read it-colleagues, loved ones.
Newcomers for the first time it is better to invite personally, t.To. They will have to be accustomed.
Use arguments:
Of course, as you want, but if you refuse now, then the rest of your life will be lost in conjecture – and what would happen? What if it would be one of the best adventures in my sexual life?
Imagine, old age will come and you will have memories in which there was no such exciting adventure ..
Naturally, at first scary and awkward. Each participant and me too. But you agree, it is terribly exciting and is the very reason to try.
We have no rule – you will not like it, you will leave at any time. No one will force anyone. So you will not lose anything, and if you like it, you will spend the evening perfectly.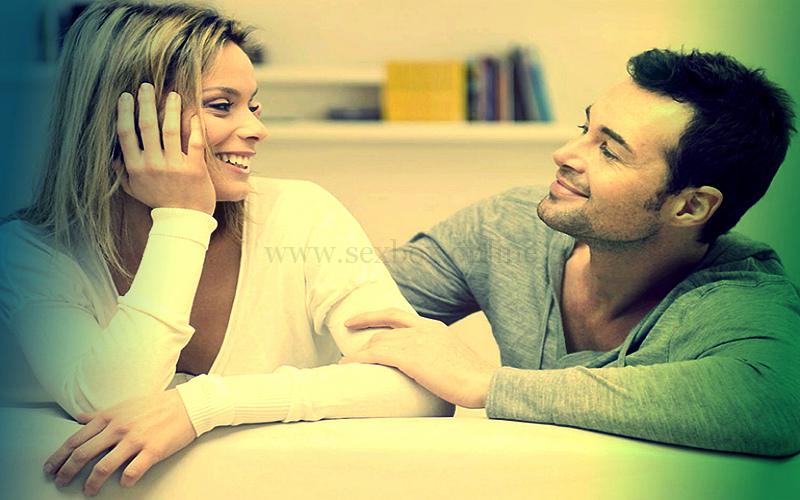 Photo: Gener's gentle persuasion for gangbang
You must be sure and inspired. Many people want, but they are afraid – so take off fears – and a person in your company. Tell us in advance which format and which people are expected at the party.
It is ideal to spend group sex in the midnight area or early in the morning, when biorhythms are not as active as during the day.
How to prepare a room
You need to create an atmosphere of something special so that people have a feeling of entering "into a special world for the elect".
Choose a room without index signs so that at the entrance no one can suspect where it goes.
Do not show the rooms for sex in advance, so that those who decided to move on to copulation understand that they have already stepped behind the threshold and there is no reverse passage – it remains to enjoy.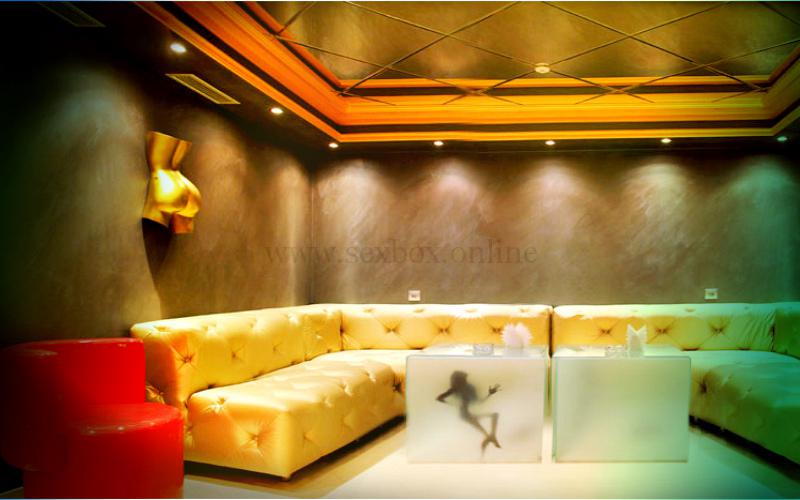 Photo: Privat in a sex club
In the rooms for sex:
There should be a soft carpet on the floor so that you can easily change the position and number of participants.
The light should be soft and muffled. In complete darkness, partners will feel each other only to the touch, and in the light – also observe powerfully exciting paintings of people fucking nearby.
Do not use candles so that the orgy participants do not have to be careful.
The room should be impeccably purely and tasty to smell.
There should be a lot of napkins, towels and clean sheets.
Prepare in advance contraceptives in large quantities.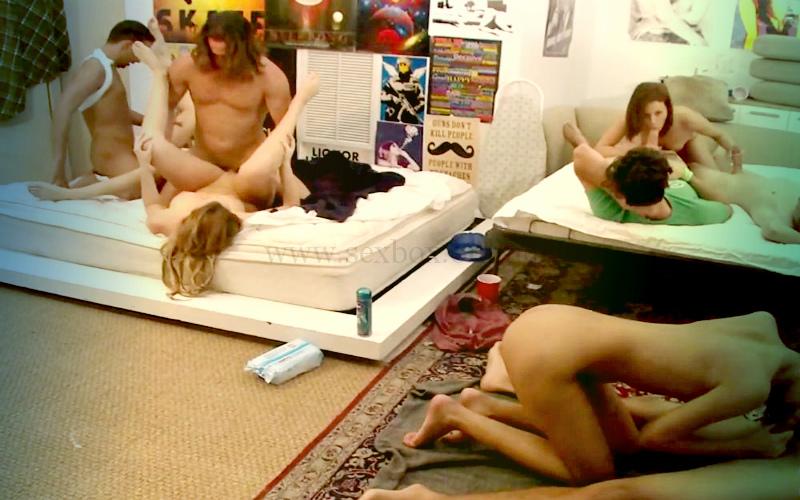 Photo: Convenient room for group sex
Remove complexes
Stereotypes can prevent your guests from relaxing, and the orgies do not take place. Prepare something that can be blamed for.
Alcohol, so that then shy participants could think that it is because of the drunk. Ritual of love and unity with the world – when there are many long touches and hugs. Invite the hypnotist (not necessarily the present). People need an external reason that will help to explain to himself why he ran naked and had sex with everyone.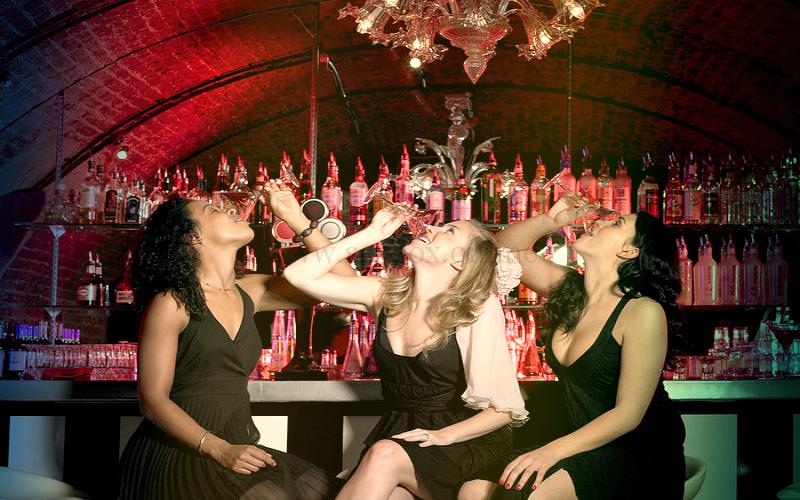 Photo: Relax a little in front of a sex lunch
Try not to overdo it with alcohol. Drunk become unbridled, often annoying and inadequate. They will help the orgies begin, but their sexual endurance is low.
Start
At the very beginning, explain to everyone There is no rule: You can give a refusal and you can get a refusal. This is normal, you do not need to be offended and upset about it. And you can't insist inadequately either.
This means only one thing: "I don't want to do this right now with you. Perhaps later ". Everyone must comply with it strictly.
This will allow everyone to relax. Particularly shy, who came for the first time, will understand that no one will force them to what they would not want to do.
First you need to involve everyone in some kind of common activity. If in nature – fry kebabs, if in the room – arrange a group game without separation by a couple.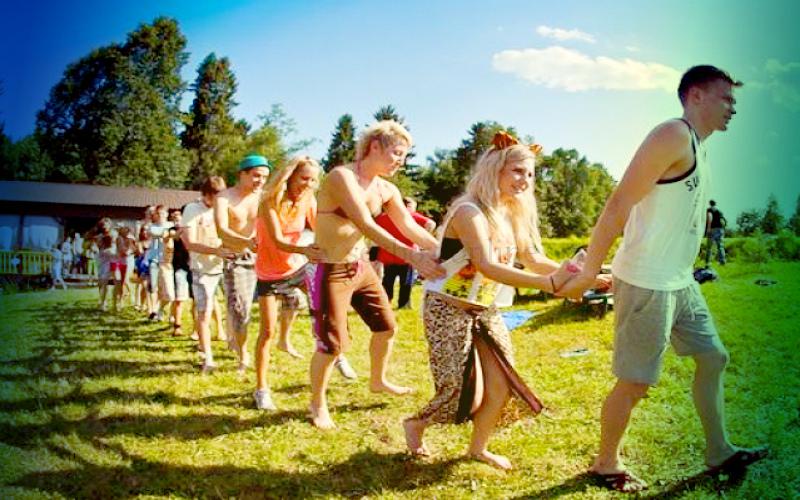 Photo: the first entertainment on a sex party
Until the atmosphere is warming up and falls up – try to hold men and women separately – sit on different sofas. Then they rush much faster to each other.
Prevent breakdown into couples at the very beginning. Make a arrangement or seedling in group games so that the obviously attracted couples are separately and pay attention to other people.
See the article – "11 games to move from words to group sex".
Invite the participants to come in clothes of the same color or one style.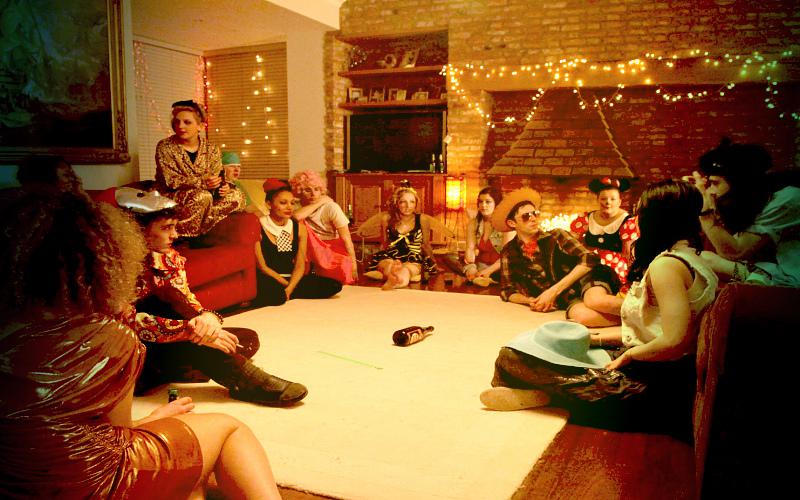 Photo: playing a bottle at a party
There should be no decorations, hours and glasses during sex. No personalization – everyone should be naked and the same.
To relieve stress, invite a couple of foreigners and ask everyone to speak English to the best of abilities. Alien language will relieve tension, make it clear with gestures and accelerate the moment of rapprochement and touch.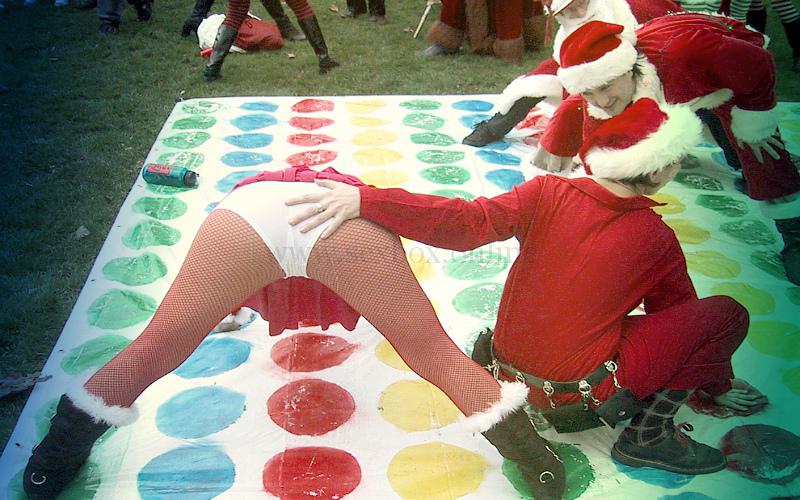 Photo: sex twister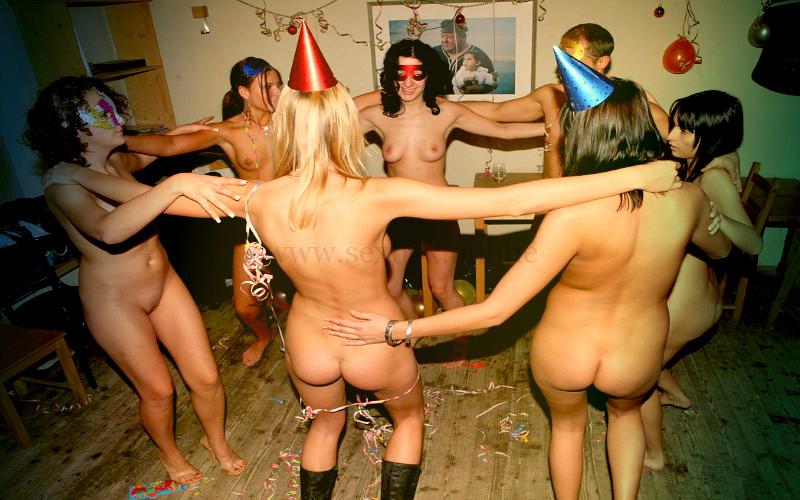 Photo: Dirty dances at a party
Before erotic games, put everyone in a circle, offer to close your eyes and sing a mantra together, or make a couple of exercises from the dynamic meditation of Kundalini.
At the initial stage, it is important to combine and bring all the participants closer. Voiced the main rule "We do it together".
Party pace build up gradually
The participants need to liberate gradually and at about the same pace. If someone from the threshold is ready to start sex, then someone needs time to look around, calm down and slowly get excited. Otherwise, the shy, seeing sex after the first acquaintance, can quickly break and go home, taking with them a few more people.
The longer the group prelude will occur when everything is excited, but there is no sex, the brighter and more emancipated the orgy itself will pass.
The approximate pace of the gangbang
Communication without touch in clothes
Take hands
Massage, stroking in clothes
Light kisses on the cheek, neck, hands
Deep kiss with the tongue, strong hugs and affection in clothes
Undressing, caresses with the hands of the genitals, chest
Oral sex
Sex with penetration
Partners' changes
Your task is to maintain an increasing atmosphere of excitement.
Orgy participants must move at the same pace, without ahead of more than 1 stage. For example, when everyone has light kisses, someone can caress in clothes deep, but completely undressed and the genitals are still impossible to caress.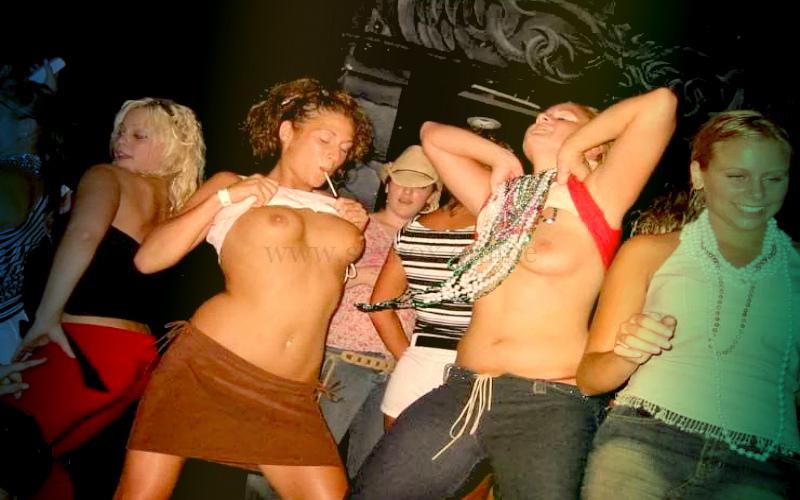 Photo: We relax and undress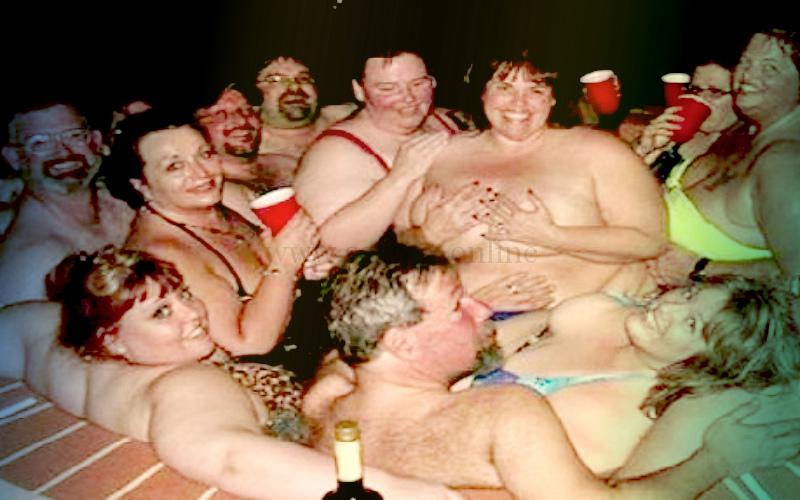 Photo: Fathers enjoy the warm jacuzzi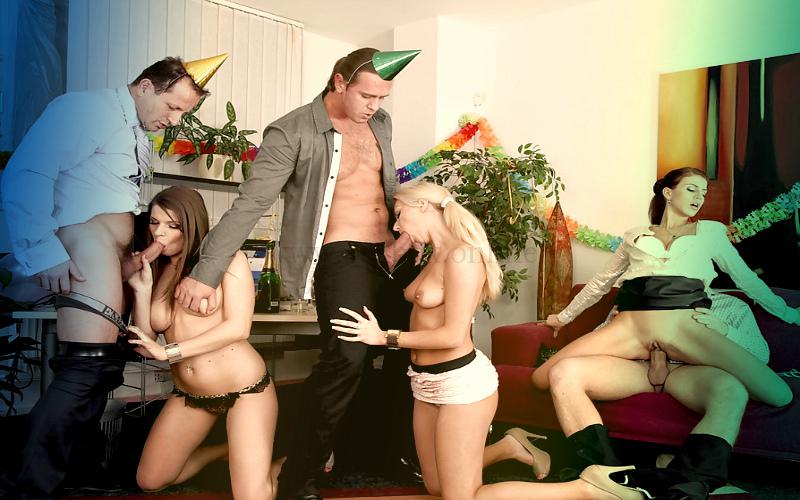 Photo: transition from oral caresses to sex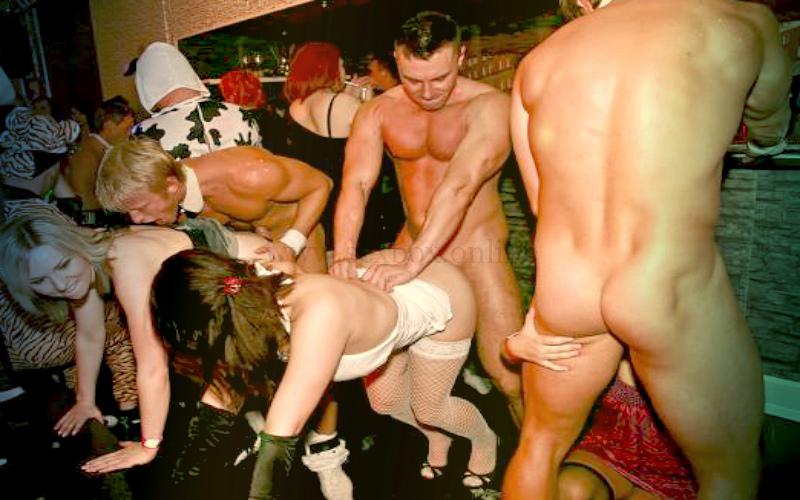 Photo: High of orgies on a sex lunch
Over time, the gangbang itself will gain a degree and speed, everyone will undress and indulge in carnal joys without additional regulation.
If someone wants to fade
Perhaps someone is not entirely ready to participate in the orgy. When the atmosphere was heated, people began to undress, and caresses became more frank – the most tense may want to leave. Keep in mind that a few more people can leave the herd instinct with it. And the rest of the impression will be spoiled and thoughts like "decent people do not go to orgy … What am I doing here..".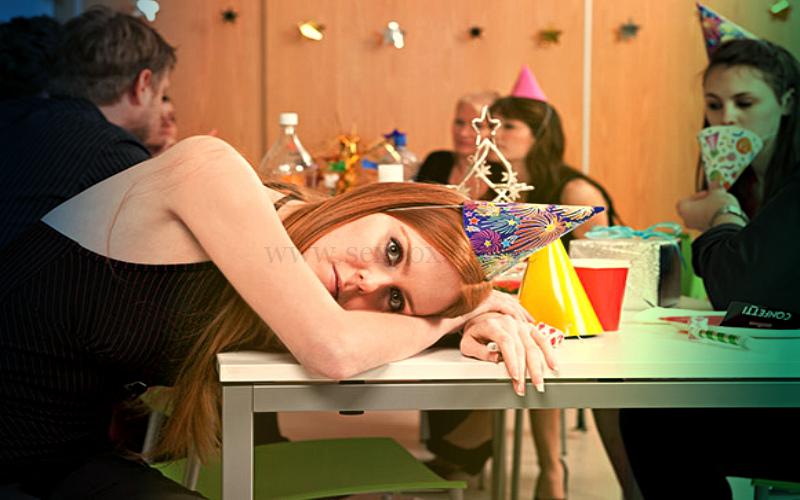 Photo: Girl misses a sex party
Therefore, carefully follow the dissatisfied and those who cannot join and feel discomfort. Pay them more attention, help relax.
If you understand that he will dump it anyway, better drive him away. Not particularly rude, but so that both him and the rest would understand that he was not out of his own free will, but because he stupidly spoils the atmosphere and does not fit our company.
Let the rest of the doubters from fear of being publicly expelled relaxed and do business.
At the end of the orgy
When everyone is saturated, the degree will slowly decrease, satisfied people should gather somewhere in the common living room.
They need to offer them tea, coffee, light sweet snacks. It is very important that the participants can sit comfortably and calmly, and not pull the pants at once and run away.