Kama Sutra pose 40 – "Eagle" in sex.
Pose 40 Kama Sutra It has the name "Eagle". The name is quite interesting, because the partner's legs are open, like the wings of a mighty bird.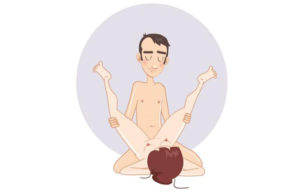 Porn pose of the eagle – soar on the wings of love
For execution Kamasutra Pose 40 A woman should lie on her back and raising her legs, spread them to the sides. The man sits down on his knees near her legs and grabs their hands. Then he penetrates and begins movements, pulling the girl with his hands to him.
This position is good in that it allows the member to deeply penetrate the vagina of a woman, as well as to control the entire sexual intercourse. The partner in this case has freedom of action, she can caress herself and completely relax. To make it more comfortable, this Pose of the eagle Kamasutra It is better to perform on a soft bed than on the floor, since the woman's back will be strongly rested, which can cause discomfort. After some time, a man can lower her legs and move on to a more traditional missionary position, but this will already be a completely different position of the Kama Sutra.
In the position of Eagle, sex is ideal because it does not require special physical training and does not cause any difficulties during intimacy with a loved one.