58 pose of Kama Sutra – "fold".
The pose of 58 Kama Sutra is called "fold". One of the most interesting in the famous eastern book.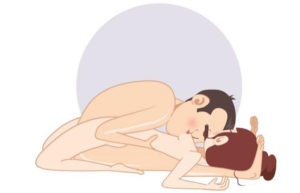 A fold pose in sex – mutual attraction
It is suitable for absolutely all people, unnecessarily of special physical training, except perhaps the athletic physique of a man and the lack of excess weight, which will not allow enough to be inclined over a partner. The pose is 58 very convenient, it can be in it for a long time. In order to perform it, a woman should lie on the floor or bed (a large double) is suitable). The man sits down near her hips and extends his legs forward so that they are near her head. After that, he makes his penetration, pulls up closer to her, inserting his cock deeper into her vagina in the folding of the fold.
58 Kama Sutra's pose invites a man to bend down to give his partner kisses in the abdomen, breasts, neck and what he will reach. A woman in this position has a more passive role, she can only relax and have fun. True, after a while, a man can shut his legs or get a lower back, but from the pose 58 in sex you can easily go to another. Which one, you can decide for yourself by looking at all the poses of sex on our website.