What is a vacuum clitoral pump? How to use a pomp for a clitoris?.

The advantages of vacuum massage of intimate zones are available not only to men, but also to us ladies. What is the clitoral and vaginal pumps, how to use them correctly and what sensations can be obtained from use.
What is a vacuum pump for a clitoris?
The clitoris pump consists of a silicone flask with a suction and pear. The principle of action is simple and brilliant: the flask is strengthened tightly to the body and from it with the help of a pear, air is pumped out, due to which a vacuum is created. To the area of the body, covered by the flask, begins to quickly add blood, filling tissues and blood vessels, which increases sensitivity and exacerbates all sensations. In addition, the air pumping process itself is also very pleasant, it can be compared with sucking during cunnilingus.
The toy can be made in the form of a clitoral-vaginal pump, the flask of which has such a size to capture the entire intimate area, stimulating, both the clitoris and labia. As for the pump for the clitoris, its dimensions are designed to create a vacuum in the clitoral zone, and this isolation provides an exceptional effect and pleasure for lovers of clitoral orgasm.
Types of clitoral pumps: In addition to traditional models with a flask and pear, there are advanced options with a vibrator with a remote control or built -in control, additional antennae and pimples for stimulation.
Why is it worth trying a clit pump?
► simple and safe in operation: most of the models are equipped with an emergency button to eliminate the vacuum and pump out air, and the principle of use of a pear, we think, is familiar to everyone who has seen a tonometer for measuring pressure at least once in his life.
► brings pleasure to both partners: everything is already clear about female pleasure, while a rare man can remain calm when he saw the swollen labia and clitoris. Additional pleasure will bring the sensations from touching a member to swollen charms, and during intercourse, dense sponges will perfectly stimulate the penis trunk.
► regular use will ensure the increased sensitivity of this erogenous zone, improve blood circulation and provide a faster and brighter orgasm.
► the pump has no restrictions on the zones of application – You can successfully try a vacuum, for example, for male and female nipples.
► Women's pump can be a complement to prelude or fantastic replacement of oral sex.
► You yourself can control your pleasure by pumping air with sharp or smooth presses, often or slowly.
► helps to achieve orgasm even in the most hopeless situations.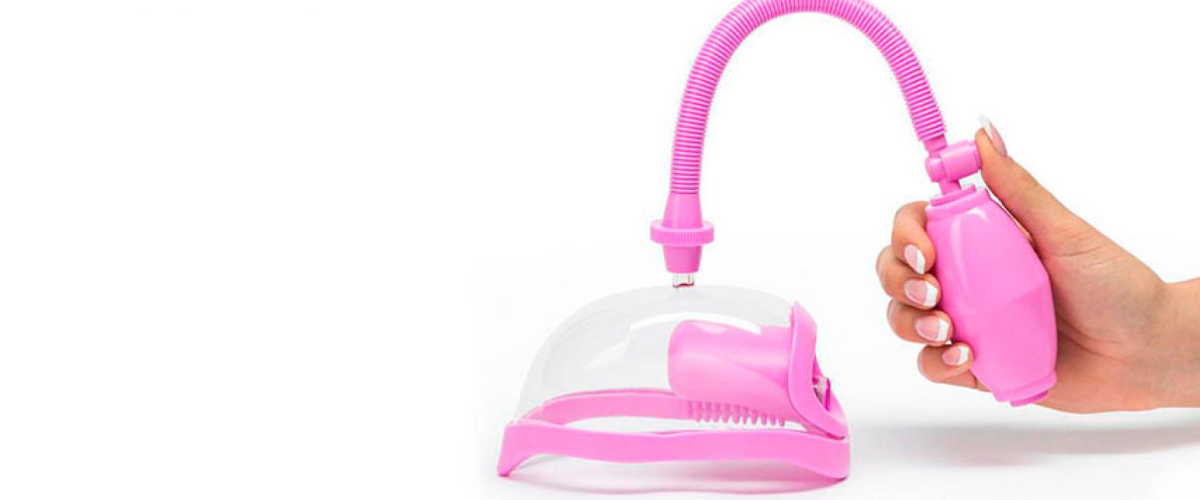 How to use a vacuum pump for a clitoris?
Carry out intimate hair removal – Sausage or suction cups should fit tightly to clean skin, excess vegetation will not allow this to do this.
Check if the air intake valve is closed.
Lubricate the skin abundantly around the clitoris and the edges of the flask on water -based lubricant.
Press the pump to the clitoris area, trying to ensure that the clitoris is in the center.
First hold the flask with one hand, pressing the pear with the other when the vacuum is created, you do not have to hold.
Continue to pump out air, observing and feeling the area for a flask or suction – It should not be painful!
The vibrator should be turned on only after pumping air.
If the air becomes difficult to pump out – stop pumping out and let in the air, remove the flask and continue to enjoy the game.
You can pump out and run air several times about 10 seconds at a time, but it is not recommended to use a vacuum pump for more than 20-30 minutes – Follow the condition of the skin. If pain, bruises, red dots appear – stop immediately, you damaged the vessels.
Useful tips on the use of clitoral pump:
Having sex after a vacuum pump, it is better to add a lubricant, because a vacuum can cause dryness.
Rinse the pump before each use by conventional soapy solution and warm, but not hot, water;
If another person used pump, be sure to use antiseptics or a special tool for cleaning sex toys.
The pump needs to be stored and transported carefully – It is quite fragile.